Jurassic World: Dominion Dominates Fandom Wikis - The Loop
Play Sound
Cart Corridors is a location in the Playtime Co. factory, which debuted in Chapter 2: Fly in a Web.
Overview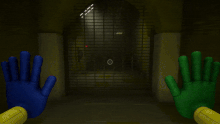 The Cart Corridors is a location from Poppy Playtime Chapter 2: "Fly in a Web", within the Playtime Co. toy factory. When the player sees that they can't get through a door (because the lever to open it is located on the other side), a second, metallic door opens, with alarm sounds. Then the player sees a big silhouette, similar to Huggy Wuggy that slowly walks towards the player, reminiscent of Huggy's walk before the vent chase in Chapter 1. However the figure is actually Kissy Missy, who seems to be benevolent, and opens the door. As the door slowly opens, Kissy Missy walks away, back through the door and is gone by the time the player can actually follow after. The corridors contain a VHS Tape which records a conversation between Leith Pierre and Marcas.
Appearance
The Cart Corridors has a high resemblence to the 2019 creepypasta "The backrooms", as it is a system of corridors with rails and many closed doors.